Weekly Newsletter
Stanton Street Shul Newsletter - Parashat Bamidbar / Yom Yerushalayim / Rosh Chodesh Sivan
| | |
| --- | --- |
| Author | |
| Date Added | |
| Automatically create summary | |
| Summary | |
Week of May 22, 2020 / 28 Iyyar 5780
Parashat Bamidbar / Yom Yerushalayim / Rosh Chodesh Sivan
Dear friend,

How are you? In these challenging times, if there is any way the Stanton Street Shul can support you and your loved ones, please email us. 

We are increasing our online learning and gathering opportunities. Read on to check out some of the online events coming up and join us! 

We also want to hear from you! What resources and guidance can the Stanton Street Shul provide at this time?
Erev Shabbat, May 22: Yom Yerushalayim, 43rd Day Omer (Iyyar 28)6:30p Pre-Shabbat Kabbalat Shabbat (ends before candlelighting) on Zoom: 

https://us02web.zoom.us/j/81917246857
7:55p Candle Lighting
Tonight's Sefirah Count Is: היום ארבעה וארבעים יום שהם ששה שבועות ושני ימים לעמר
Shabbat, May 23: Shabbat Mevarchim, 44th Day Omer, Bamidbar (Iyyar 29)
9:03p Havdalah
9:15p Join Community Havdalah on Zoom: 

https://us02web.zoom.us/j/86130950545


Tonight's Sefirah Count Is: היום חמשה וארבעים יום שהם ששה שבועות ושלשה ימים לעמר
Sunday, May 24: Rosh Chodesh Sivan, 45th Day Omer (Sivan 1)
Tonight's Sefirah Count Is: היום ששה וארבעים יום שהם ששה שבועות וארבעה ימים לעמר
Monday, May 25: 46th Day Omer (Sivan 2)7:00p Jewish History with David Deutsch on Zoom
(Ends at 8:00p):
https://us02web.zoom.us/j/85196972546
Tonight's Sefirah Count Is: היום שבעה וארבעים יום שהם ששה שבועות וחמשה ימים לעמר
Tuesday, May 26: 47th Day Omer (Sivan 3)7:00p Pre-Shavuot Shiur with Rabbinic Intern Jason Goldstein and Megillat Ruth Reading by Mordecai Silver
Join via Zoom at https://us02web.zoom.us/j/86020227593
Tonight's Sefirah Count Is: היום שמונה וארבעים יום שהם ששה שבועות וששה ימים לעמר
Wednesday, May 27: 48th Day Omer (Sivan 4)
Tonight's Sefirah Count Is: היום תשעה וארבעים יום שהם שבעה שבועות לעמר
Thursday, May 28: Erev Shavuot, 49th Day Omer (Sivan 5)
8:00p Candle Lighting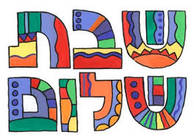 Pre-Shabbat Kabbalat Shabbat
Fridays at 6:30pm (ends before candlelighting)

Come together for davening as we prepare to welcome Shabbat in our own homes.


Community Havdalah
Motzei Shabbat, 15 mins after Shabbat ends


​​​​​​​Gather post-Shabbat to connect and transition from Shabbat into the new week.
All in person services and programs at the Stanton Street Shul are canceled until further notice. 
Mazal tov to Rachel and Allen Mincer on the birth of a new grandson, and to the new parents Shifra and Eric!

May God give strength and courage to health care workers, mental health professionals, and all who work selflessly to keep the rest of us healthy and safe during this time.

We pray that all who are sick may have a full recovery. To add a name to our communal misheberach prayer list,

email us

.​

A Note On Governor Cuomo's Recent Announcement: Governor Cuomo announced this week that houses of worship in New York may open but attendance must be limited to 10 (in an effort to constitute a proper minyan). The Governor has also stated, somewhat confusingly, that on June 13 he would announce new steps in the opening of businesses and houses of worship.  
​​​​​​​Some neighborhood shuls have opened and are conducting mincha services, some even on a rotating half-hour basis limiting attendance to 10 at all times.  The OU has issued a statement calling on shuls to safely wait at least two weeks after government announces permission to open. In the meantime, the Stanton Street Shul remains cautious and closed, awaiting future approval to open in some capacity. 
Jeff's growing BBG--balcony botanic garden. 

Cute photos are making us smile during these difficult days. Submit a photo of your own cute kid, pet, or plant to be included in a future newsletter!
During this time of physical distancing, we are hosting classes and gatherings using Zoom.
To view our full schedule of online programming (and how to use Zoom), visit: stantonstshul.com/zoom
Jewish History with David Deutsch
Mondays thru May 25, 7:00-8:00 PM 

Final Class - 
5/25/20:  Miracle or Master Plan?

For a description of each session, visit the class page

Join the class via Zoom using this link.
Call in by phone: (929) 205-6099
Meeting ID: 851 9697 2546
Password: 173796


Shavuot themed shiur with Rabbinic Intern Jason Goldstein
Megillat Ruth Reading with Mordecai Silver
5/26 at 7:00 pm

Join us for pre-Shavuot learning and megillah reading on Zoom. Rabbinic Intern Jason Goldstein will teach a class on the upcoming holiday. Then Mordecai Goldstein will layn Megillat Ruth for our community.

Join by Zoom at this link

Call in by phone: (929) 205-6099
Meeting ID: 860 2022 7593
via JOFA: Megillat Ruth Reading and Rosh Chodesh Service

Online Reading of Megillat Ruth: Register Today for JOFA's first ever online, women-led Megillat Ruth reading on Wednesday, May 27 at 1pm EDT! Register here and join via Zoom using this link. 

Rosh Chodesh Sivan Shacharit: Welcome the Hebrew month of Sivan on Sunday, May 24th, at 9:30 EDT with Shacharit, Torah reading, and Mussaf, plus Tehillim for our ailing loved ones, led by Jennifer Horowitz. All are welcome.  Register here and join us via Zoom using  this link.

Note: For security reasons, you will need to register for both programs in order to receive the passwords to virtually join us. Please contact dani@jofa.org with any questions.
Staying Connected While Apart

Even when we're apart, we are still a community. We encourage people to check in with one another by phone and email, so that social distancing does not become a time of isolation. Pick one or two "Stanton buddies" and check in weekly with your buddies!

When you are logged in to your account on the Stanton Street Shul website, you have access to view the membership directory, including contact information for members and friends of the shul. You also have the ability to edit your own listing and, if you prefer, to hide your information so that it does not appear in the public directory. If you have any difficulty, please email Jessica Spector, membership committee chair.  

Here's another way to stay connected: Head over to our new Stanton Street Shul Group on Facebook to chat with other congregants, share LES news, quarantine parenting tips, recipes, a class you may have heard about, how you are doing, and what help you might need. 
No one should go hungry at this time. Please share these resources with those in need:

NYC Meal Hubs are located at 400 locations throughout the city and distribute 3 prepared meals (including kosher meals) per person, Monday through Friday--packaged to go. No ID or registration required. Just show up!

Seniors can receive meal delivery by connecting with their local senior center or calling DFTA's Aging Connect at 212-AGING-NYC (212-244-6469) or call 311.

Most supermarkets (including Trader Joe's, Stop & Shop and Whole Foods) provide Senior early hours for the more vulnerable to shop safely during Covid-19.
{{shulcloud_footer_left}}
{{shulcloud_footer_right}}
Wed, December 1 2021 27 Kislev 5782