Weekly Newsletter
The Stanton Street Weekly Newsletter: Shabbat Vaera
| | |
| --- | --- |
| Author | |
| Date Added | |
| Automatically create summary | |
| Summary | |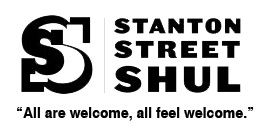 ​​​​​​​
Week of January 15th, 2021
24 Tevet 5781
Shabbat Vaera
Erev Shabbat January 15th (2 Shevat)
4:35p Candle Lighting
Shabbat Vaera, January 16th (3 Shevat)
9:30a Shabbat Services IN SHUL
Register Here
5:38p Shabbat Ends. Gut Vuch and Shavua Tov!
6:15p Havdalah FROM YOUR HOME TO OURS 
via ZOOM


Tuesday, January 19th (6 Shevat)
7p - 8p Parshat haShavuah with Rabbi Leead Staller 
via ZOOM


Wednesday, January 20th (7 Shevat)
7p - 8:15p Rabbi Leead Staller's Tefillah shiur 
via ZOOM
Scroll down for class and event details.
Thank you to this week's DONORS
We are grateful to have such a committed community

Rachel Frazer Membership
The following congregants contributed to the End-of-the-Year Fund:
Paul & Phyllis Ruffer • Elaine & Norman Teitcher
Solomon Sauerhaft in memory of Phyllis Sauerhaft Gottlieb
Mark Stein contributed to the Building Fund
​​​​​​​Jeff Katz Class Sponsorship
Neil Picker
COVID Protocols
As cases rise nationally, and New York City tightens restrictions, we reemphasize the need to abide by the CDC guidelines. If you feel sick, please stay at home. If you attend in-person services, please wear a mask and register for services in advance. Thank you everyone for your cooperation as we all work together to ensure a safe service. 
​​​​​​​

From Your Home to Ours
Stanton's ZOOMing Havdallah

Let's celebrate the end of Shabbat and the beginning of the work week together!
ZOOM IN at 6:15pm on Saturday night
Please invite your friends and neighbors, and volunteer to lead us next week!
Because many of us are not able to attend shul in person, the Rabbi has agreed to share his shabbat morning drashah in advance. Here is the first half of it. To read the full drashah, click here and it will take you to what will become a rich archive of all of Rabbi Staller's drashot.  

For a religion, we certainly do not talk about theology very often. I've read countless articles about how Orthodoxy doesn't mention God enough. And yet, while we might shy away from the big picture questions in favor of Halakhic minutia and clever insights into the Torah reading, a few times a year the Parshah calls our bluff and doesn't let us hide from the ever-lurking big questions. Perhaps the most famous– and most troubling– will come up later in the year, when we read about wiping out Amaleik and the Canaanite nations. But while Amaleik might win the grand prize as the Parshah's most prominent theological/philosophical issue, Parashat VaEra presents us with what must surely be the runner up: Pharaoh's lack of free will.
God warns Moshe early on in our Parashah (Shemot 7:3):

וַֽאֲנִ֥י אַקְשֶׁ֖ה אֶת־לֵ֣ב פַּרְעֹ֑ה וְהִרְבֵּיתִ֧י אֶת־אֹֽתֹתַ֛י וְאֶת־מֽוֹפְתַ֖י בְּאֶ֥רֶץ מִצְרָֽיִם
And I will harden Pharaoh's heart and I will multiply my signs and wonders in the land of Egypt.

And God is good on his promise. Following the fifth of the ten plagues, we start to see regular reminders of "God hardening Pharaoh's heart" before each plague, as the Torah seems to imply that, were it not for God's intervention, the Exodus would have ended well before the tenth plague. Why was God interested in prolonging the production? Rashi explains that God wanted to use the opportunity of the exodus from Egypt not just to free the Jews and to punish the Egyptians, but rather, God saw the exodus as the Jewish people's introduction to the global stage, and as such, wanted to leave an impression. Thus, God forced Pharaoh to drag it out to ten plagues, giving God ten opportunities to perform open miracles for the Jewish people, demonstrating His power and their standing to the nations of the world. 

But this presents a major theological and philosophical difficulty: What ever happened to free will? It seems like God is removing Pharaoh's free will when he hardens his heart and forces him to keep the Jews enslaved in Egypt! Does God remove people's free will? And if that is indeed what is happening here, to what end is God doing that? If the goal is to prolong the exodus to put on a better show for the global audience, how can God punish Pharaoh with additional plagues when He knows that Pharaoh's refusal comes against his will? How can Pharaoh be held accountable when God is hardening his heart? ...continued

Click HERE to read the Rabbi's full Drasha
Misheberach: We pray that all who are sick may have a full recovery. To add a name to our communal misheberach prayer list, email us. 

Happy Birthday to Shlomo Sternberg!
Parsha Anniversary for Dana Friedman!

SPONSOR A CLASS
Please sponsor a virtual class in honor of oneself, the Shul, a yahrzeit, an anniversary, a birthday, or in the name of a friend or someone who sustains the Shul with their hard work.  Sponsorships begin at $36, but there is no maximum. All sponsorships benefit the Shul and are very much appreciated. 
Rabbi Leead Staller hosts weekly Parshat haShavuah Vaera
Tuesday, January 19th, 7:00 - 8:00pm via ZOOM
To join by phone, dial 1-(929) 205 6099 and enter Member ID: 847 9509 7605

AND Tefillah Shiur
Wednesday, January 20th, 7:00-8:15pm via ZOOM
To join by phone, dial 1-(929) 205 6099 and enter Member ID: 894 9535 0094
StantonKids Tu B'Shvat Seder
Sunday, January 24th at 10am via ZOOM 
Morah Leslie and Morah Aliza will lead children in traditions, rituals, and song for this environmentally-focused holiday.
Sponsored by Liz & Jon Miller in memory of Rochelle Miller. 


David Deutsch's Three-Part Lecture Series: 
From Antisemitism to Extermination - the Evolution of Nazi Jewish Policy

Mondays at 7:00pm via ZOOM

Although it is believed by many that the Final Solution was the culmination of a decades-long plan on the part of the Nazi leadership, the consensus of modern historians is that it arose out of wartime circumstances.

January 25th Germany and Hitler's Antisemitism: The Place of Jews in Weimar Germany and the Nazi Consciousness

February 1st Judenfrei: Nazi Jewish Policy in the 1930's

February 8th German Military Ambitions, Failures, and the Adoption of the Final Solution

To participate by phone, dial 1 929 205 6099 and enter Meeting ID: 845 3085 7476
Richard McBee's Pre-Purim Art Lecture

February 22: Artemisia: Esther and Women
Artemisia Gentileschi's Esther Before Ahasuerus in the Metropolitan Museum of Art is a paradigmatic example of this 17th Century female artist's oeuvre. More than a quarter of her paintings aggressively depict Jewish heroines in a Baroque era rock-star career. We shall explore her feminist Jewish treasures.


The Weekly Chesed Roundup
Looking for a local or remote chesed opportunity this week?
Here are some ways you can help individuals in need:
Create handmade cards
for homebound seniors with DOROT
Sign up
for volunteer opportunities with Repair The World
Participate
in a volunteer project with New York Cares
Donate
 food or clothes to The Bowery Mission
Feed the hungry
with City Harvest (for folks under 65)
Volunteer
at a food bank with Food Bank for NYC
Take care of the earth
by volunteering with GrowNYC
Take action
for NYC refugees and asylum seekers with HIAS
​​​​​​​
Knit and send a winter hat
to an IDF soldier
--brought to you by our Chesed/Social Action Committee
We at The Stanton Street Shul and beyond have the incredible opportunity to learn Torah from the comfort of our own homes every week! Hear Rabbi Staller's fresh perspective on the weekly parsha on Tuesday evening at 7:00 PM and his innovative approach to understanding Tefillah (prayer) on Wednesdays at the same time. All Stanton classes are free and recorded for your review, but it is the live interchange between rabbi and participants that energizes these classes and makes them special. 
{{shulcloud_footer_left}}
{{shulcloud_footer_right}}
Wed, December 1 2021 27 Kislev 5782