Weekly Newsletter
The Stanton Street Weekly Newsletter: Shabbat Mevarchim Pinchas
| | |
| --- | --- |
| Author | |
| Date Added | |
| Automatically create summary | |
| Summary | |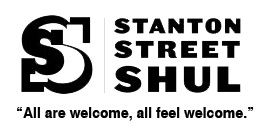 ​​​​​​​
Week of July 2nd, 2021
22 Tammuz 5781
​​​​​​​Shabbat Mevarchim Pinchas
Erev Shabbat July 2nd (22 Tammuz)
7:00p Kabbalat Shabbat IN SHUL
8:13p Candle Lighting

Shabbat Mevarchim Pinchas, July 3rd (23 Tammuz)
9:30a Shabbat Services IN SHUL
9:21p Shabbat Ends. Gut Vuch and Shavua Tov!
9:30p Havdalah FROM YOUR HOME TO OURS via ZOOM

Tuesday, July 6th (26 Tammuz)
7p - 8:15p Rabbi Leead Staller's Parshat HaShavuah Shiur via ZOOM

Wednesday, July 7th (27 Tammuz)
7p - 8:15p Rabbi Leead Staller's Tefillah Shiur via ZOOM

Thusday, July 8th (28 Tammuz)
Yahrzeit, Mother of Amy Eisenberg: Blanche Eisenberg

From Your Home to Ours
Stanton's ZOOMing Havdallah
Let's celebrate the end of Shabbat and the beginning of the work week together!
ZOOM IN at 9:30pm on Saturday night
Please invite your friends and neighbors, and volunteer to lead us next week!
Misheberach: We pray that all who are sick may have a full recovery. To add a name to our communal misheberach prayer list, email us. 

Happy Anniversary to Elizabeth and Jonathan Miller!
Refuah shelama to Alvin Goldstein.
Yahrzeit, Mother of Amy Eisenberg: Blanche Eisenberg

The Stanton Street Shul COVID PROTOCOLS
(as of June 30, 2021)
We care deeply about the safety of our community. 
Any attendee who is not vaccinated must wear a mask.
Masks are optional for fully vaccinated attendees. 
Please be considerate of the health of our community.

Security Protocols for Entering Shul:
At all times as a security precaution, please use the code to enter the door on the right side of the building. If you do not know the code, knock and someone will let you in.
In honor of the Installation of Rabbi Leead Staller, the shul gifted Rabbi Leead and Shoshana a lovely engraved Simon Pierce serving bowl. It is engraved with the words:
"In Appreciation.
The Stanton Street Shul 2021."
Shoshana said she knows just the right tomato salad to serve in this bowl.
For our health and that of our city, country and world -- 
get vaccinated!
Walk-in vaccines are now available throughout the city. Or speak to your doctor. Or call the main vaccine hotline for NYC: 877-VAX-4NYC or 877-829-4692. Or visit https://vaccinefinder.nyc.gov/ or  https://www.turbovax.info/
From Our Israel Awareness Committee
Come to Tel Aviv
As my last days in Tel Aviv draw to an end, and tomorrow I move up to Jerusalem for a number of weeks, I am eager to return to the city I know so well, but saddened to leave Tel Aviv, a city I have grown to love.
After a steamy June day, I popped into the Mediterranean Sea for the second time today. This time, rather than doing early morning laps, I took a few dunks to cool off and watched the sun set, a fiery red ball dipping into a cloudless western horizon.  
Soon after, I joined a few friends for a farewell dinner in the old port, now a bustling attraction with packed restaurants and shops. Seated at a boardwalk restaurant I enjoyed healthy food and excellent local wine, and people watched. An evening breeze brought out Tel Avivians to eat and to stroll. Young and old, religious and secular, athletic runners and pensioners, tattooed spectacles and tsitsit wearers, all display their ideologies proudly. 
Tonight there are no disturbances. People are gentle, happy, and relaxed.  No need to look over one's shoulder in fear of conflict or violence. No shouting, no honking, just a cool evening breeze and tonight, a content people. Unimaginable that in May the evening sky was lit up with terrorist missiles and Iron Dome deflectors.  
Tomorrow, the reality of endless building and construction will continue, and main roadways throughout the country will be super congested with SUVs on improved but inadequate highways. Tomorrow the sounds of dogs and Hebrew speaking children playing happily in the parks and by the shore will be a joy to hear. Tel Aviv must be the dog capital of the world, and unlike the U.S. or Europe, Israelis, even the secular, are reproducing in large numbers. 
This country, 73 years young, despite its high pitched political and social infighting, is the living proof of God's miracles, and the fulfillment of the promise that Am Yisrael Chai v'Kaiyam.   עם ישראל חיי וקיים
As soon as the borders open to tourists, plan to come. You won't be sorry.  
Best,
Jeff

Sunday, July 18th: The Chesed/Social Action Committee is sponsoring an Asian/Jewish event. Stay tuned for details. 
Sunday, July 25th: Moishe House is opening downtown and we will host an event with them to celebrate. Stay tuned for details. 
Sunday, August 1st: Save the Date for our Annual General Membership Meeting in person and via ZOOM. 
Sunday, August 8th: Women's Tefillah Group Rosh Chodesh Elul Services in-person(!) with live shofar blowing, collation, and live-ZOOM-streaming. Stay tuned for more details. 
{{shulcloud_footer_left}}
{{shulcloud_footer_right}}
Sun, August 14 2022 17 Av 5782