Weekly Newsletter
The Stanton Street Weekly Newsletter: Shabbat Shoftim
| | |
| --- | --- |
| Author | |
| Date Added | |
| Automatically create summary | |
| Summary | |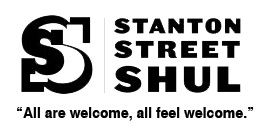 ​​​​​​​
Week of August 13th, 2021
5 Elul 5781
​​​​​​Shabbat Shoftim
Erev Shabbat August 13th (5 Elul)
7:00p Kabbalat Shabbat IN SHUL
7:39p Candle Lighting

Shabbat Shoftim August 14th (6 Elul)
9:30a Shabbat Services IN SHUL
8:40p Havdalah

From Your Home to Ours
Stanton's ZOOMing Havdallah
Let's celebrate the end of Shabbat and the beginning of the work week together!
ZOOM IN at 9:30pm on Saturday night
Please invite your friends and neighbors, and volunteer to lead us next week!
Thank you to this week's DONORS!
We are grateful to have such a committed community.

Fred & Maria Epstein Membership Dues 
Amy Eisenberg Yizkor Appeal
Congratulations to Our Newest Trustees
and Thank You for Volunteering!
Mona Klaber, Lina Morales, and Jeremy Newberger

Congratulations to Re-elected Trustees
and Thank You for Your Service!
Peretz Berk, Barry Feldman, Risa Gerstein, Alvin Goldstein, Jeff Katz, Margie Segal, Jessica Spector, and Marc Schwartzberg

Welcome Back to Our Mid-Term Trustees
and Thank You for Your Service!
Paul Ruffer, Brina Chu, David Deutsch, Ethan Ellenberg, George Kleiner, and Ellen Silverstein

Congratulations to Our Officers
and Thank You for Your Service!
President Jeff Katz
Vice Presidents Paul Ruffer & Margie Segal
Treasurer and Financial Secretary Marc Schwartzberg
Recording Secretary Barry Feldman
Annual Membership Drive
Become a Member of The Stanton Street Shul
If you are already a member, it's time to renew your membership for the new calendar year.
Please consider increasing your membership level.
If you are not a member, please consider joining!!
We'd love to have you.
We welcome you with outstretched arms!
Drasha 
Many are surprised to find out that the origin of the American idea of separation of Church and State is a non-legal letter written by Thomas Jefferson, and a clause in the Constitution itself. Of course, there is no such confusion when it comes to Halakha, as as a Jewish law code, Halakha outright rejects this idea of separation between law and religion, and provides us with a religious law code full of ritual and civil rules alike. That being the case, we are rarely surprised to find a blurring of boundaries between law and religion in the Halakha, as we expect as much from the Torah. And yet, while that may be the case, there are still some halakhot that feel a little bit funny in the way they conflate religious status with legal authority. While we expect that the Halakha will deal with ritual and interpersonal laws alike, we don't necessarily expect halakha to confer legal and civil status upon someone because of their religious role. 

Given that, one of the Halakhot that is learned from our Parshah feels a little bit uncomfortable. Rambam, reflecting the language in a Midrash in our Parshah, rules (Hilchot Sanhedrin 2:2) that there is a Mitzvah for the Sanhedrin, the High Court, to have Kohanim and Leviim in it. While a court of all Yisraelim is Kosher, there is still a Mitzvah that, ideally, the court should contain Kohanim and Leviim as well. The source for Rambam's ruling is a Midrash in our Parshah. The Sifrei comments on the Passuk: "UVata El HaKohanim HaLeviim VeEl HaShofeit," "you shall approach the priests and the levites, and the judges" and, noting the unusual conflation of Kohanim, Leviim, and Shoftim in the verse, concludes that there is a Mitzvah on the courts to have Kohanim and Leviim as judges.

At first glance, this Halakha seems to be advocating for a conferment of legal authority and status on the basis purely of religious lineage– a troubling idea. Why should Kohanim and Leviim get priority in judicial appointments solely on the basis of their religious status? Don't we care about halakhic knowledge and qualifications to judge fairly? Of all positions to require religious leadership, and prioritize the priestly class, that of judge surely seems to be one of the most problematic. Especially given how our own Parshah emphasized the need to have qualified, just, and fair judges and magistrates...continued here.

Click HERE for an archive of Rabbi Staller's Drashot
David and David in the News!
There is a great article featuring David Friedman and David Wander and their art,
in the Jewish Standard.
Misheberach: We pray that all who are sick may have a full recovery. To add a name to our communal misheberach prayer list, email us. 

Yahrzeit: 
Murray Nusbaum, husband of Risa Goldstein
Evelyn B. Katz, mother of Jeff Katz
Eric Johnson

Refuah shelama to Alvin Goldstein.

Kiddush Kashrut Policy:
We're thrilled to have had over two months now of Kiddushes, thanks to the generous donations of many Stanton Members, and the hard work of Risa and the Kiddush committee (the Fress-capades Food Committee).We have sponsorship packages available, but if you want to cook yourself, use an outside caterer, or bring something special for Kiddush, please discuss the Kashrut with the Rabbi first. Our Kashrut policy is that any food that bears a Hechsher on the CRC Kashrut List may be brought for Kiddush as long as it is sealed. For any other items, please speak to the rabbi first. 

The Stanton Street Shul COVID PROTOCOLS
(as of August 13, 2021)
We care deeply about the safety of our community. 
Any attendee must wear a mask.
For High Holidays, attendees must provide proof of vaccination. 
Please be considerate of the health of our community.

Security Protocols for Entering Shul:
At all times as a security precaution, please use the code to enter the door on the right side of the building. If you do not know the code, knock and someone will let you in.
For our health and that of our city, country and world -- 
get vaccinated!
Walk-in vaccines are now available throughout the city. Or speak to your doctor. Or call the main vaccine hotline for NYC: 877-VAX-4NYC or 877-829-4692. Or visit https://vaccinefinder.nyc.gov/ or  https://www.turbovax.info/
Rabbi Leead's Weekly Shiurim will be on summer hiatus as the Rabbi uses this period to prepare for the upcoming year! Please feel free to review any of our old classes on the Shul youtube account, and of course, everyone is always welcome to reach out to the Rabbi to talk Torah anytime! 
{{shulcloud_footer_left}}
{{shulcloud_footer_right}}
Sun, August 14 2022 17 Av 5782