Weekly Newsletter
The Stanton Street Weekly Newsletter: Shabbat Chol Hamoed Sukkot
| | |
| --- | --- |
| Author | |
| Date Added | |
| Automatically create summary | |
| Summary | |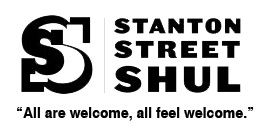 ​​​​​​​
Week of September 24th, 2021
18 Tishrei 5782
Shabbat Chol Hamoed Sukkot
Erev Shabbat September 24th (18 Tishrei)
7:00p Kabbalat Shabbat IN SHUL
6:32p Candle Lighting

Shabbat Chol Hamoed Sukkot September 25th (19 Tishrei)
9:30a Shabbat Services IN SHUL
7:29p Havdalah

Hoshanah Rabbah September 27th
6:26p Candle Lighting

Shmini Atzeret September 28th
9:30a Services IN SHUL
7:23 Candle Lighting

Simchat Torah September 29th
9:30a Services IN SHUL and Women's Tefillah Group Services
7:21 Havdalah

See below for full HH schedule. 
High Holidays 5782

Registration and Proof of COVID Vaccination Required

Masks Required

Shabbat Chol HaMoed Sukkot:
Saturday, September 25th / 19 Tishrei
9:30am Services in Shul
Register Here

Shmini Atzeret:
Tuesday, September 28th / 22 Tishrei
9:30am Services in Shul
Register Here

Simchat Torah:
Wednesday, Septemerber 29th / 23 Tishrei
9:30am Services in Shul & WTG Services
Register Here

Please send a photo of your vaccine card to Jill or bring it to services. We will have someone at the door confirming proof of vaccination. 
Thank you to this week's valued DONORS!
We are grateful to have such a committed community.

Brenda & Robert Fahn • David & Aliza Deutsch • Sivan Bachar 
for High Holiday Appeal
Larissa Nahari for StantonKids
Annual Membership Drive
Become a Member of The Stanton Street Shul
If you are already a member, it's time to renew your membership for the new calendar year.
Please consider increasing your membership level.
If you are not a member, please consider joining!!
We'd love to have you.
We welcome you with outstretched arms!
Misheberach: We pray that all who are sick may have a full recovery. To add a name to our communal misheberach prayer list, email us. 

Happy Birthday Jeff Katz!

The Stanton Street Shul COVID PROTOCOLS
(as of September 1, 2021)
We care deeply about the safety of our community. 
All attendees must wear a mask.
Attendees must provide proof of vaccination. 
Please be considerate of the health of our community.

Security Protocols for Entering Shul:
At all times as a security precaution, please use the code to enter the door on the right side of the building. If you do not know the code, knock and someone will let you in.
For our health and that of our city, country and world -- 
get vaccinated!
Walk-in vaccines are now available throughout the city. Or speak to your doctor. Or call the main vaccine hotline for NYC: 877-VAX-4NYC or 877-829-4692. Or visit https://vaccinefinder.nyc.gov/ or  https://www.turbovax.info/
Rabbi Leead's Weekly Shiurim will be on summer hiatus as the Rabbi uses this period to prepare for the upcoming year! Please feel free to review any of our old classes on the Shul YouTube account, and of course, everyone is always welcome to reach out to the Rabbi to talk Torah anytime! 
{{shulcloud_footer_left}}
{{shulcloud_footer_right}}
Tue, December 5 2023 22 Kislev 5784