Weekly Newsletter
The Stanton Street Weekly Newsletter: Shabbat Lech Lecha
| | |
| --- | --- |
| Author | |
| Date Added | |
| Automatically create summary | |
| Summary | |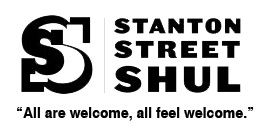 ​​​​​​​
Week of October 15th, 2021
9 Cheshvan 5782
Shabbat Lech Lecha
Erev Shabbat October 15th (9 Cheshvan)
6:00p Kabbalat Shabbat IN SHUL. Rabbi Staller will speak before maariv
5:58p Candle Lighting

Shabbat Noach October 16th (10 Cheshvan)
9:30a Shabbat Services IN SHUL
6:55p Havdalah

Tuesday, October 19th (15 Cheshvan)
7p Rabbi Staller's Parshat HaShavuah Shiur via ZOOM

Wednesday, October 20th (16 Cheshvan)
7p Rabbi Staller's Tefillah Shiur via ZOOM
Thank you to this week's valued DONORS!
We are grateful to have such a committed community.

Peretz Berk & Erik Leung • Moshe Bloxenheim • Ethan Ellenberg •
Maria & Fred Epstein for High Holiday Appeal 
Moshe Bloxenheim for Yahrzeit of R. Sonig Bloxenheim
Barry Cohen in Honor of Sonya and Nina Friedman
Malka Percal for Out-of-Town Family Membership
KIDDUSH SPONSOR

Max Vizelberg is sponsoring kiddush this Shabbat in honor of the Yhartzeit of his father,
Igor Arkady Vizelberg, Yisrael ben Anna.
​​​​​​​May his Neshamah have an Aliyah and his loved ones find comfort.
Drasha

While the Torah, until now, has been cosmological in focus– telling us stories of how our universe came to be, albeit sometimes through the eyes of individual characters– Parashat Lech Lecha represents a tangible shift in the narrative. Parshat Lekh Lekha focuses on one individual– Avram– and the challenges and successes he and his family face. While it's true that there is a larger story of Avram being a torchbearer for monotheism and faith in God, many of the details in our Parshah have nothing to do with that. It seems like the animating engine in our Parshah is the development of Avram's life, and not the grander tale of God's plans for Avram, as we hear about Avram's financial difficulties, political faux pas in Egypt, and personal family drama between him and his nephew. 

Of course, the rabbis also notice this surprising narrative shift to granularity, as we learn seemingly trivial details of Avram's journey.  Perhaps that's why the Midrash Tanchumah in our Parshah introduces the following idea: 

"Rabbi Yehoshua of Sichnin said : God gave a sign to Abraham that everything that befell him would happen to his children: God chose Avraham from all his family ... likewise, He chose his (Abraham's) children from all the 70 nations… Avraham vanquished four kings and likewise Israel will strike fear into other kings and their kingdoms.... God went out and fought Abraham's enemies, likewise He will act similarly with his Children."

This Midrash is but one example of the rabbinic concept of Maaseh Avot Siman LeBanim, the actions of the forebearers are indicative for their descendants. The rabbis address the relevance of these surprising background stories of Avram's life by asserting that these seemingly trivial stories of Keeping Up with the Ivriim family drama are actually eternally significant. They are not merely background or historical context about our ancestor Avraham, but rather, they are somehow indicative and relevant throughout time, even to the present....CONTINUE HERE

Click HERE for an archive of Rabbi Staller's Drashot
Nu?... What's New? VOS IZ NAYES?
 
You've all heard the old joke, "If you have two Jews, you'll get three opinions," but one thing we can all agree on is that during these unprecedented times, staying connected is so important! It's wonderful to see so many of you returning to shul, but we're thinking of EVERYONE!

So we thought it would be fun to have a new monthly column in Stanton's newsletter--VOS IZ NAYES? (Yiddish for What's New?)--in which we'd love for you to let us know how you're doing and how you're keeping busy. 
Have you been studying Torah? Are you taking ZOOM classes? Do you have a new pet? Have you been reading Shalom Aleichem stories? Have you been learning a new language? Have you become the balaboosta you've always dreamed of being? Have you taken up a new musical instrument? Have you been cooking up a storm? Have you been eating up a storm?

Whatever you are (or aren't doing), we'd love to hear about it. We'd love to hear about you and your family; it can be just a few sentences or a few paragraphs. Feel free to send a photo if you'd like.

In the first newsletter of the month, we'll share a different story. This will be a great way to stay connected, learn about new members, and learn more about old ones.

Please send all submissions to Mona Klaber
We look forward to including your news in an upcoming Stanton news email!
Shabbat Shmooze
Another way to stay connected to congregants and let people know we care!
 
Each Thursday, we will call a few congregants to chat, touch base,
and wish them Shabbat Shalom! 
Send all call requests, recommendations, or interest to Rabbi Staller
StantonKids
with Morah Leslie
10:30-12pm
Saturday, October 23rd
MIX and MATCH Shabbat
We are starting a new program at The Stanton Street Shul which is run at many other synagogues around the world: Mix and Match. It's a way to celebrate Shabbat, bond with fellow Stantoners, and share a meal at a Friday night dinner or Shabbat lunch. 

Our first Mix and Match will be Friday November 5th/Saturday November 6th.  Please fill out this form to register for one or both meals, and communicate preferences and food restrictions. The organizer will do the curating and assign you as a guest or a host by email.

All forms must be submitted by noon Thursday, November 4th.  
Assignments will be emailed by Thursday night at 7PM.

The Rules for Mix and Match Gatherings:
1. All participants 12 and over must be vaccinated. Please show your vaccination card to your host upon arrival.
2. As a host, you must be able to seat a total of 6-8 people (including yourselves)
3. Hosts are expected to serve kosher food using kosher dishware.
4. Guests are expected to bring a gift such as a bottle of wine, challah, or dessert.
5. Friday night dinners begin at 7:30 PM and Saturday afternoon lunches at 1PM.  It is best to meet your host at the synagogue beforehand, but if this isn't possible, please agree before Shabbat on the time when you will meet at the host's lobby / building entrance.
6. Dinners and lunches are expected to last 1.5 hours but this is flexible
7. Be willing to go where you are assigned. The idea here is to deepen and widen friendships within the synagogue while having some social time -- we all need that!
8. Please do NOT second-guess the organizers, who will create these groups.
9. Cancellations are to be avoided, but email your host by Friday at noon if you can't make it.

Please submit your form to participate by noon November 4th. 
Assignments will go out on Thursday by 7PM via email. 

We welcome your feedback and suggestions. Please participate -- this will be the season to emerge from all the isolation of COVID!
Let us know if you have questions.

Organizer:  Dan Marcus


​​​​​​​Stanton Young Person
Stress-Free
Shabbat

Join Us for A Free
Shabbat Dinner
After Kabbalat Shabbat

Friday, November 12th

Sign up here!
Kislev Clothing Drive

Sunday, November 14 from 2 - 4 PM

Do you have a lot of clothing you never wear and want to get rid of? We've got your back! Ahead of Thanksgiving and Chanukah, join The Stanton Street Shul in getting into the holiday spirit by giving back to the
Lower East Side/Chinatown community.
To participate and/or volunteer for our clothing drive to support The Bowery Mission, please fill out this form. We will be collecting clothing and shoes items ONLY on Sunday, November 14 from 2 - 4 PM EST at The Stanton Street Shul (180 Stanton Street). See below and on The Bowery Mission's website for a list of most-needed items and reach out to Brina Chu with any questions.

For Men's Clothing & Shoes:
(clean, new/gently used, medium to XXXL sizes): Most needed items include jeans, casual and professional clothing and shoes, underwear (new only), undershirts (large sizes) and socks

For Women's Clothing & Shoes:
(clean, new/gently used, medium to XXXL sizes): Most needed items include jeans, casual and professional clothing and shoes, underwear (new only), bras and socks.
Save the Date: Women's Tefillah Group Services for Shabbat Chaye Sarah. In shul on October 30th. Kiddush will be sponsored by the WTG. 

Misheberach: We pray that all who are sick may have a full recovery. To add a name to our communal misheberach prayer list, email us. 

Wishing Barry Feldman a speedy recovery after undergoing surgery. 
Happy Birthday Maya Nagel!

The Stanton Street Shul COVID PROTOCOLS
(as of September 1, 2021)
We care deeply about the safety of our community. 
All attendees must wear a mask.
Attendees must provide proof of vaccination. 
Please be considerate of the health of our community.

Security Protocols for Entering Shul:
At all times as a security precaution, please use the code to enter the door on the right side of the building. If you do not know the code, knock and someone will let you in.
New Beginner Talmud Class: Needs Your Help!
Following the conclusion of our Tefillah class in a month+ or so, we will be kicking off a new class, led by Rabbi Leead with the help of our Rabbinic Intern Emily and others! The class will be an introduction to Talmud, with the goal of giving members exposure to wide areas of Talmud and Talmudic thinking. Each week will be organized around an important idea or concept, and Rabbi Leead or Emily will present everyone with a few different Talmudic passages that address that concept. If this sounds interesting to you, and you'd like to join Rabbi Leead, Emily, and Dan Marcus to brainstorm topics/ideas and finalize a class schedule, please reach out to Rabbi Leead (leeadstaller@gmail.com). All help is appreciated! 
For our health and that of our city, country and world -- 
get vaccinated!
Walk-in vaccines are now available throughout the city. Or speak to your doctor. Or call the main vaccine hotline for NYC: 877-VAX-4NYC or 877-829-4692. Or visit https://vaccinefinder.nyc.gov/ or  https://www.turbovax.info/
{{shulcloud_footer_left}}
{{shulcloud_footer_right}}
Fri, September 22 2023 7 Tishrei 5784