Weekly Newsletter
The Stanton Street Weekly Newsletter: Vayera
| | |
| --- | --- |
| Author | |
| Date Added | |
| Automatically create summary | |
| Summary | |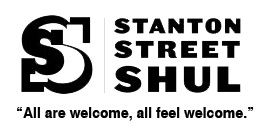 ​​​​​​​​​​​​​​
Week of November 3 2023
 Cheshvan 5784
Shabbat Vayera
Erev Shabbat, Friday November 3, 2023 (19 Cheshvan)
Candle Lighting at 5:32pm

Given these challenging times and the devastating events in Israel over the past few weeks, it is more important than ever to gather and worship as a unified Jewish community. We hope that you will take the opportunity to take a pause from the stress of day-to-day life and join us for services this Shabbat.

Shabbat, November 4, 2023 (20 Cheshvan)
Services begin promptly at 9:30 am, followed by Kiddush open to all at 12pm. And families, join us downstairs for StantonKIDS Programming at 10:30am!

Havdalah at 6:31pm

Membership Announcement:
Renew Your Membership or Consider Joining Our Community Here!
Reach out to Brina at info@stantonstshul.com with any questions.


Be a Part of The Shabbat Project This Week!




Dear Stanton Community, 
 
This Shabbat is The Shabbat Project, an international movement for Jews of all walks of life to observe Shabbat this week.

Rabbi Abraham Joshua Heschel described Shabbat as "a sanctuary in time" through which we can experience the majesty of creation and the miracle of existence. 

In the words of the Israeli poet Zelda:
"Light a candle.
Drink wine.
Softly the Sabbath has plucked the sinking sun.
Slowly the Sabbath descends,
The rose of heaven in her hand.

How can the Sabbath
plant a huge and shining flower
in a blind and narrow heart?
How can the Sabbath
plant the bud of angels
in a heart of raving flesh?
Can the rose of eternity grow
in an age enslaved
to death?

Light a candle!
Drink wine!
Slowly the Sabbath descends
are in her hand
the flower, and in her hand the sinking sun."

On Simchat Torah, we experienced the greatest loss of Jewish life since the Holocaust. The grief is fresh in our hearts. It hasn't yet been 30 days; the Jewish people are still in Shloshim.

When our hearts are shattered, seeking respite and courageous hope, Shabbat is not merely a day of rest; Shabbat emerges as a transcendence for our souls, a testament to our enduring spirit. 

We assuage our grief through community. The mourner is surrounded by loved ones in their home in Shiva. The mourner says Kaddish in a quorum of 10. And on this shabbos, we will show up for each other with The Shabbat Project. 

Chief Rabbi Warren Goldstein, the founder of The Shabbat Project, envisions this weekend to be: "A sublime moment of global Jewish unity. One people. One heart. One Shabbat. Let's keep it together for Israel. Am Yisrael Chai. "

On this Shabbat especially -- light candles, one for each soul in your home. Come to shul. Invite a friend to your shabbos table. Even better, invite someone who isn't your friend to your shabbos table. Leave an empty chair for one of the hostages. Sing an extra song at Havdalah. Make this shabbos a special one -- for you and the entirety of the Jewish people.

Gut shabbes,
Dvir and Shalhevet Cahana
Virtual Town Hall Meeting

Stanton Street Shul will be holding a virtual town hall meeting  on Thursday, November 16 at 7pm. Join us for an update on the spiritual leadership of the shul and come ready with questions, suggestions and feedback for us! We look forward to seeing you there and catching up with you.

Join us here via Zoom.




Dear Stanton Community, 
 
We are shaking from the war breaking out in Israel. Hamas has fired thousands of rockets, over 199 citizens are hostages, and over 1,400 Israelis are dead with thousands more wounded. The hostages include women, children, and even a Holocaust survivor. There are also thousands dead in Gaza -- innocent civilians caught in the line of fire. 
 
This is unprecedented and the most deadly attack on Israel in a generation. We must take action.
In addition to our prayers, we ask you to consider making a generous donation to one of the listed causes.
 
The One who makes peace on high, may He bring peace down below to us, 
Dvir and Shalhevet Cahana

Birthdays
Happy birthday, Caleb Klaber! (11/4)

Misheberach 
Rachel Devorah bat Elke
Cecile Cohen זיאסל מלכה בת אסתר 
Manny Kaplan מאיר ראובן בן לאה        
Chana Mera bat Fruma Henna
Gitche bat Honcha
Ella bat Leah
Chaya Malka bat Esther Leia
Nolan Rhodes נתן צבי בן פרידה
Ashlynn Elizabeth Helen Coffman
Ariella Ylena bat Rachel Devorah
 Moshe Asher Ben Esther Sarah
Chaim Yechezkel Ben Leah
Zalman Leib Ben Sarah Itka
Reuven ben Rochel
Rochel bat Devora
Rivka bat Miriam Sara

We pray that all who are sick may have a full recovery. We are especially sending prayers to those who are wounded and in need of healing in Israel and Gaza, and daven for the safe return of those who are still unaccounted for.
To add a name to our communal misheberach prayer list, email us.

If you have a Yahrtzeit coming up, please reach out!
We'd like to update our Yahrzeit database. Please send us your yahrzeit details. If you don't know the exact hebrew date, just let us know the date of passing and we will figure it out and add it to the shul cloud calendar.



StantonKIDS
Shabbat Programming for 5784

Our Upcoming Program Dates for 5784 Are Below - We Can't Wait to See You & Your Little Ones There!
This Shabbat, November 4!
November 18
December 2 and December 16
January 6 and January 20
February 3 and February 10
March 2 and March 16
April 6 and April 20
May 4 and May 11
June 1 and June 15
3GNY & The Blue Card
Sunday, December 10, 2023
11:00am-1:00pm
At Stanton Street Shul
 180 Stanton St, New York, NY 10002 




You are invited to learn about The Blue Card's work providing Holocaust survivors with financial resources to improve their daily lives, leading to them have a more secure future.
 
Hear firsthand from Holocaust survivors about how The Blue Card works with them, as well as a third-generation survivor who volunteers with The Blue Card.
 
Join us afterwards for refreshments, including latkes and drinks.
Women's Tefillah Group


Women's Tefillah Group Schedule for 5784
Shabbat Parshat Chayei Sarah - November 11
Shabbat Parshat Beshalach - January 27
Megillat Esther on Purim night - March 23
Shabbat Parshat Emor - May 18
If you would like to layn, lead services, or give a d'var Torah with us, or if you have questions, please be in touch!
If you missed services this past shabbes, or arrived too late to hear the drasha, you can go to our archives and read a copy! This week, find Lina Morales' drasha on Lech Lecha. 

Click here for an archive of shiurim
Click here for an archive of drashot
Click here to go to our YouTube Channel for an archive of all of our ZOOM classes
{{shulcloud_footer_left}}
{{shulcloud_footer_right}}
Tue, December 5 2023 22 Kislev 5784