Weekly Newsletter
The Stanton Street Weekly Newsletter: Mevarchim Yitro
| | |
| --- | --- |
| Author | |
| Date Added | |
| Automatically create summary | |
| Summary | |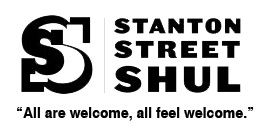 ​​​​​​​
Week of February 5th, 2021
23 Shevat 5781
​​​​​​​Mevarchim Chodesh Adar 
Shabbat Yitro
Erev Shabbat February 5th (23 Shevat)
5:00p Candle Lighting
Shabbat Yitro, February 6th (24 Shevat)
9:30a Shabbat Services IN SHUL
Register Here
6:02p Shabbat Ends. Gut Vuch and Shavua Tov!
6:30p Havdalah FROM YOUR HOME TO OURS 
via ZOOM

Monday, February 8th (26 Shevat)
7p Final Part of David Deutch's Lecture Series
via ZOOM


Tuesday, February 9th (27 Shevat)
7p - 8p Parshat haShavuah Mishpatim with Rabbi Leead Staller 
via ZOOM


Wednesday, February 10th (28 Shevat)
7p - 8:15p Rabbi Leead Staller's Tefillah shiur 
via ZOOM

Thursday, February 11th (29 Shevat)
7p - 8:30p SSS Book Club
via ZOOM
Scroll down for class and event details.
Thank you to this week's DONORS
We are grateful to have such a committed community
The following congregants contributed to the Mishloach Manot 2021 Project:
Ethan Ellenberg • Alan Feder & Ashira Lubkin • Sharon Lebewohl • Elissa Sampson • Jessica Spector & Raffi Abelson 
Jeff Katz for High Holidays Fund
Rita Lourie-Galena for Membership and in honor of Margie Segal
Neil Picker for General Donation
Margie Segal for Sponsorship of WTG Rosh Chodesh
Ellen & Paul SIlverstein for Sponsorship of Sandra Rapoport Purim Lecture
COVID Protocols
Many of us are committed to attend Shabbat services throughout this pandemic. We respect all who have decided to remain at home and look forward to the time when we will reunite under the Stanton roof. 
During these frigid Shabbatot, we turn up the heaters and, per, CDC ventilation maintain a healthy airflow by opening the front doors, the rear doors of the sanctuary, and the rear doors of the balcony. To retain as much heat as possible, we have decided not to open the side windows. We wear masks and maintain social distance.  
Come to shul only if you feel healthy, and please dress in seasonally appropriate attire.  
​​​​​​From Your Home to Ours
Stanton's ZOOMing Havdallah

Let's celebrate the end of Shabbat and the beginning of the work week together!
ZOOM IN at 6:30pm on Saturday night at the household of Jeremy Newberger and Rebecca Betensky!
Please invite your friends and neighbors, and volunteer to lead us next week!
Because many of us are not able to attend shul in person, the Rabbi has agreed to share his shabbat morning drashah in advance. Here is the first half of it. To read the full drashah, click here and it will take you to what will become a rich archive of all of Rabbi Staller's drashot.  

Merely a year ago, in January 2020, Stanford Medical School published a blog post about the conventions of naming diseases– presumably unaware of the 24/7 coverage the newly named COVID-19 virus was about to get. More specifically, the article discussed a live controversy in the medical world surrounding eponymous diseases. Should a condition be named after its discoverer, or even a prominent patient, or should technical medical names be used? In addition to offering greater scientific exactitude, technical medical names remove the potential stigma and association between individuals and various diseases. Surely, Lou Gherig would rather be remembered for his Yankee's career than his illness. 

Yet, despite these obvious downsides, the convention remains, and is largely defended and maintained in the medical world. While this seems perhaps troubling, as we expect our scientific fields to maintain standards of nomenclature that reflect the rigorous standards of study expected in the field, the reason for the persistence of eponymous diseases is clear. Naming something after someone is a sign of honor and respect, as the newly named thing– even if it is a disease– provides a lasting legacy that honors the namesake well after their passing. 
​​​​​​​
Given our own contemporary significance surrounding naming and dedications, we can properly understand one of the most famous questions to arise in our Parshah. Why did Yitro merit to have this week's Parashah named after him? The truth is, to some extent this question is a red herring. The "naming" conventions of the Parshiyot are relatively recent and not definitively established. Indeed, the original tradition was merely to refer to Parshiyot by the first verse or two in order to identify them– no names at all! But while the focus on the name of the Parashah might be misleading, it is picking up on an important and hard to miss question at the heart of this week's Torah section. Why does Yitro, Moshe's non-Jewish father in law who served as a priest of the presumably pagan religion of Midyan, get such a prominent feature in the Torah? If Yitro's story wasn't featured so prominently– being one of the first stories to be told after the Exodus, and immediately prefacing the giving of the Torah– the Parashah never would have been named after him. But what's so special about Yitro's visit?...continued

Click HERE to read the Rabbi's full Drasha
Misheberach: We pray that all who are sick may have a full recovery. To add a name to our communal misheberach prayer list, email us. 

Parsha Anniversary for Larissa Nahari.
Happy Birthday to Melinda Zalma, Jessica Spector and Jonah Sampson-Boyarin.

COVID PURIM GUIDE
by Rabbi Leead Staller
As Rosh Chodesh Adar swiftly approaches, Purim prep is in full swing here at the Shul! As such, some Halakhic guidelines to be aware of for Purim during COVID:

Parshat Zakhor: The Shabbat before Purim is Shabbat Zakhor, in which we read the section from Parashat Ki Teitzei where Amaleik attacks the Jewish people. We hold that hearing this Parashah constitutes a Mitzvah DeOreita, a Torah commandment, as it fulfills the obligation of "Remember what Amaleik did to you." As such, ideally everyone should hear Zakhor read in person from a Torah. If that is not possible due to the COVID reality, you should read Parashat Zakhor (Deut. 25:17-19) to yourself from a Chumash, and when Parasha Ki Teitzei (August 21, 2021) comes around, assuming (God willing) that we are past COVID isolation, you should have in mind then for the Torah reading to fulfill your biblical obligation of remembering Amaleik.

Fasting: While one should fast for Taanit Esther, as all minor fasts, if one has any symptoms of COVID whatsoever, even if they are not yet severe or they have not yet gotten test results back, they should not fast. Same if you are COVID positive, of course.

Megillah: Ideally, Megillat Esther reading should be heard in person. Unlike Eichah and some of the other Megillot we read, the reading of Megillat Esther is not a Minhag, a custom, bur rather, a Mitzvah, a commandment based in the biblical verses of the Book of Esther. As such, the standard expected to fulfill the Mitzvah is higher, and it is harder to fulfill it via Zoom. Ideally, if one cannot hear the Megillah in person out of caution, quarantine, or illness, the next best option is borrow/purchase a Megillah and read it for one's self. However, acknowledging that most do not have the means or access to purchase their own Megillah, we will be broadcasting our Megillah reading live with Zoom. While most authorities are hesitant to allow for a Zoom Megillah reading, if that is your best option, please be sure to attend it live, as that is halakhically more sound.

Matanot LaEvyonim: There is a Mitzvah on the day of Purim itself to distribute funds to at least two poor individuals, so that they may afford meals for the day. We will have a local in-person option, coordinated with Rabbi Joe, as advertised in the announcements. Additionally, one can fulfill the Mitzvah by donating to any in-person charitable organization available online (Yad Eliezer is a popular Israel-based charity). If someone needs help fulfilling this Mitzvah, feel free to reach out to Rabbi Leead.

Machtzit HaShekel: It is customary to give a donation to the synagogue in this season as a remembrance to the half-Shekel coin that was donated to the Temple as part of the census. Donations can be made at www.stantonstshul.com/donate, and at the in-person Megillah reading there will be half dollar coins available for those who would like to perform the customary Machtzit HaShekel ritual. Seeing as this is a custom, if you cannot make it in person, don't worry. 

Mishloach Manot: There is a Mitzvah to give a package with at least two foods (ideally fit for a meal) to a friend on Purim, in order to build community and connection. As per the CDC guidelines, preparing even homemade food is relatively low risk for COVID. While in years past, many may have gotten into the habit of giving Mishloach Manot to their entire social circle, the Mitzvah only requires one package be given. To fulfill the Mitzvah, one can gift any ready-to-eat food items, or purchase and gift a pre-made Mishloach Manot through Yachad . In addition to the Mitzvah on Purim itself, Stanton Street Shul will be collecting money for a "Mishloach Manot Fund" which will send seasonal greeting cards to all members, and provide those Shul members who find themselves alone or in isolation this Purim with a special Mishloach Manot package from the Shul, to help them feel their community's care. While this does not fulfill the strict Mitzvah of the day, this is a beautiful way to support the Shul and spread the communal spirit of Purim during a difficult period.

Seudah: There is a Mitzvah to have a meal on Purim. During a normal year, there would be a complicated halakhic discussion about the ideal time to have that meal, given that Purim falls on Erev Shabbat. This year, I don't anticipate that being a problem, as there shouldn't be large elaborate Seudot. That said, reach out with any specific questions.
Rabbi Leead Staller hosts 
Parshat Mishpatim
Tuesday, February 9th, 7:00 - 8:00pm via ZOOM
To join by phone, dial 1-(929) 205 6099 and enter Member ID: 847 9509 7605

AND Tefillah Shiur
Wednesday, February 10th, 7:00-8:15pm via ZOOM
To join by phone, dial 1-(929) 205 6099 and enter Member ID: 894 9535 0094
David Deutsch's Last Lecture in his Lecture Series: 
From Antisemitism to Extermination - the Evolution of Nazi Jewish Policy

Although it is believed by many that the Final Solution was the culmination of a decades-long plan on the part of the Nazi leadership, the consensus of modern historians is that it arose out of wartime circumstances.

German Military Ambitions, Failures, and the Adoption of the Final Solution

February 8th at 7pm via ZOOM
To participate by phone, dial 1 929 205 6099 and enter Meeting ID: 845 3085 7476


Be Happy! It's Adar

Women's Tefillah Group Rosh Chodesh Services
February 12th at 8am via ZOOM
By women for women. To lead any part of the service, email us. 
By phone, dial 1 929 205 6099 and enter Meeting ID: 852 1655 6353
Sponsorships available at $36 or higher.
Solving Mysteries in Megillat Esther:
Whatever Happened to Vashti?

February 18th at 8pm 
Sandra Rapoport will explore Biblical storytelling, the historical context of the Megillah, and the different approaches of the Jerusalem and Babylonian Talmuds to Vashti and the legends surrounding her fate. Ms. Rapoport will then read from her latest novel, The Queen & The Spymaster which tells the story of Vashti, and solves the biblical mystery.
Sandra E. Rapoport is an attorney, an award-winning author of four books, Resident Scholar in Law and Bible at Harvard.
Click here to order your copy of The Queen & The Spymaster at a special 20% discount.​​​​​​​
Artemisia: Esther and Women
Richard McBee's Art Talk

February 22nd at 7pm
Richard McBee discusses Artemisia Gentileschi's Esther Before Ahasuerus in the Metropolitan Museum of Art--a paradigmatic example of this 17th century female artist's oeuvre. More than a quarter of her paintings aggressively depict Jewish heroines in a Baroque era rock-star career. We shall explore her feminist Jewish treasures.
The Weekly Chesed Roundup
Looking for a local or remote chesed opportunity this week?
​​​​​​​
Knit and send a winter hat
to an IDF soldier. If you have knit a hat, please get your hat to member 
Ellen Silverstein
and she will get them to Israel

--brought to you by our Chesed/Social Action Committee
{{shulcloud_footer_left}}
{{shulcloud_footer_right}}
Wed, December 1 2021 27 Kislev 5782