Weekly Newsletter
The Stanton Street Weekly Newsletter: Shabbat Hachodesh Mevarchim
| | |
| --- | --- |
| Author | |
| Date Added | |
| Automatically create summary | |
| Summary | |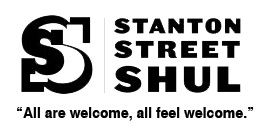 ​​​​​​​
Week of March 12th, 2021
21 Adar 5781
Parashat Vayakhel-Pekudei
Shabbat HaChodesh-Mevorachim
Erev Shabbat March 12th (28 Adar)
5:41p Candle Lighting

Shabbat HaChodesh, March 13th (29 Adar)
9:30a Shabbat Services IN SHUL Register Here
6:41p Shabbat Ends. Gut Vuch and Shavua Tov!
7:05p Havdalah FROM YOUR HOME TO OURS via ZOOM
Daylight Savings Time--move your clocks ahead one hour tonight!

Sunday, March 14th (1 Nissan)
9a Rosh Chodesh Nissan Services with Women's Tefillah Group via ZOOM

Tuesday, March 16th (3 Nissan)
7p - 8p Parshat haShavuah with Rabbi Leead Staller via ZOOM

Wednesday, March 17th (4 Nissan)
7p - 8:15p Rabbi Leead Staller's Tefillah shiur via ZOOM

See below for more details on events.
Thank you to this week's DONORS
We are grateful to have such a committed community
Margie Segal sponsorship of WTG in honor of National Women's History Month; in Honor of Paul Ruffer's birthday & Paul and Phyllis Ruffer's anniversary; 
Mazel Tov on birth of Rabbi and Shoshana's nephew; in Memory of Phil Katz's beloved mother; in Memory of Martin Pulver
Richard Bell sponsorship of Rachel Frazer's Class
Cheryl Palgon for general donations
​​​​​​From Your Home to Ours
Stanton's ZOOMing Havdallah
Stay Tuned for Kabbalat Shabbat on Friday, March 19th 

Let's celebrate the end of Shabbat and the beginning of the work week together.
ZOOM IN at 7:05pm on Saturday night and join 
Joel Moses!
Please invite your friends and neighbors, and volunteer to lead us next week.
Because many of us are not able to attend shul in person, the Rabbi has agreed to share his shabbat morning drashah in advance. Here is the first half of it. To read the full drashah, click here and it will take you to what will become a rich archive of all of Rabbi Staller's drashot.  

Parshah VaYakhel Pekudei
While recently, he's been receiving mainly positive press due to a Golden Globe win, Aaron Sorkin's screen writing was forever marred in my eyes after watching an eight minute super-clip on Youtube entitled "Sorkinisms." Despite having a storied and successful career– or perhaps, part of the secret to said success– Sorkin is guilty of endless self-plagiarism as nearly every TV show and movie he's ever worked on, from his early career until today, features one of a several oft repeated lines or chunks of dialogue that have since been dubbed Sorkinisms. For years I've wondered how Sorkin managed to develop such prestige and critical acclaim despite openly self-plagiarising, padding his works with repetitive filler. But when I look at Parashat VaYakhel Pekudei, and read for the second time this month a nearly word for word account of the construction of the Mishkan– itself only the second of four times (!) in the Torah we're given an account of the Mishkan or its construction– I begin to understand how great works can get away with unapologetic repetition.  

In addition to the lengthy and repetitive section detailing the Mishkan's construction, Parashat VaYakhel also gives us a repetition of a Mitzvah that is itself commanded no less than four (and according to some even more) times in the Torah– namely, the Mitzvah of Shabbat. ּBefore detailing the fundraising successes of the Mishkan, Moshe tells the Jewish people (Exodus 35:3): "You shall not ignite a flame in all your dwellings on Shabbat." Why is it necessary to command the Jewish people about Shabbat an additional time? And more specifically, why is the act of igniting a fire singled out, when we know there are at least 39 ways to violate Shabbat?

While many different explanations and interpretations are given, I want to focus on one presented by the Chazal in the Talmud on Sanhedrin 35b. The Rabbis pick up on the unnecessary repetition of this commandment, and– as is typical to their exegetical methodology– determine that the seemingly unnecessary repetition must be coming to teach a new aspect of the halakha. Acknowledging that we already know that we cannot light fires on Shabbat, the rabbis determine that it must be that this verse is being directed at the courts. We know that certain national interests– such as the service in the Temple– are built in as exceptions to the general prohibition of labor on Shabbat, and perhaps we would have thought that the court system should be similarly exempt. Therefore, the Torah comes and tells us that courts are not allowed to execute punishments on Shabbat– with the prohibition of igniting a flame serving as a stand-in for the fiery death penalty of Sreifah, ritual burning.  ...continued
Click HERE to read the Rabbi's full Drasha​


​​​​​​​
​​​​​​​

​​​​​​​Rabbi Staller's Pesach Prep Resource List
​
In preparation for a particularly challenging Pesach, between COVID and the unusual schedule of a Saturday night Seder, I'm including some resources early to help get us prepared for Pesach:
I encourage everyone to please review

this schedule of events

 surrounding Pesach. Managing the needs of Shabbat and Pesach are particularly challenging this year, so it is essential that everyone read this chart well in advanced of Pesach and reach out to me with any questions. We will have a Shiur the week of Pesach to prepare the speciifc details.

Similarly, my colleague, Rabbanit Leah Sarna, has produced an extremely useful

Minimalist Passover Guide

 that walks one through everything needed to host their own Passover. Highly recommended.

Similarly, for those running a Seder for the first time, feel free to consult

Jeff's Pesach Essentials

.

For the sale of Chametz, there are a couple options. I will be selling Chametz with MTJ and the Lower East Side community. Here is 

a

 

Chametz Sale Form

. Don't wait til last minute. This process takes some time, so don't get caught right before Pesach. Alternatively, if that is too complicated, you can sell your Chametz

online through Chabad

. Halakhically, that is not my preference, but if that is easier for people, it is acceptable. 

Please consult

this guide

 for advice on how to Kasher your kitchen. If a particular question or circumstance arises, please reach out to me with any questions.

Consult the

OU Passover Guide

 for general questions, such as which items require special Passover certification and which don't, or reach out to me. 

The Shul will be collecting charity for the Mitzvah of Ma'ot Chitim, the Passover commandment to ensure that the poor in your neighborhood are taken care of before engaging in your own Seder. Donations can be made to the Shul

here

, just specify that it is for Maot Chitim. The money will be dedicated specifically to causes focused on feeding the hungry locally in New York, such as the

Bowery Mission

and

Masbia Soup Kitchen

. Unless specified otherwise, we will assume the entire donation is intended for charity, so if you intend to also donate to the Shul, please specify. 

Stay tuned for Pesach Programming in the Shul! With the vaccine rollout being widened, we are hopeful that in addition to our usual services we will be able to provide some form of safe first night Seder for any who need in the community. Stay up to date with the announcements, and reach out if you need any help. 
Misheberach: We pray that all who are sick may have a full recovery. To add a name to our communal misheberach prayer list, email us. 

Refuah Sh'leima to Leslie Levinson who is in the hospital and best wishes to David Chu, Brina and Malka Chu.

Building Community Together
For many, remembering Yahrzeits, Birthdays, and Anniversaries are the most personal and meaningful dates on our calendar. They connect us to our deepest emotions. 
The Stanton Street Shul would like to help you remember these important dates. As we live busy lives, many of us would appreciate being reminded in advance of upcoming Yahrzeits. In the future, and upon request, we would like to hold more morning and evening services for members to say kaddish. 

We can automatically generate personalized greetings and reminders once you enter your dates onto your Shul account page. If you prefer, you may bring a list of your Yahrzeits, birthday and anniversary dates to Shul and we will gladly update your account for you. If you don't know the dates of your yahrzeits, please send name of loved one and time/date of death to Jill.

This is one more way of building a stronger, caring and loving community.

COVID Protocols for In-Person Shul
Many of us are committed to attend Shabbat services throughout this pandemic. We respect all who have decided to remain at home and look forward to the time when we will reunite under the Stanton roof. 
During these frigid Shabbatot, we turn up the heaters and, per, CDC ventilation maintain a healthy airflow by opening the front doors, the rear doors of the sanctuary, and the rear doors of the balcony. To retain as much heat as possible, we have decided not to open the side windows. We wear masks and maintain social distance.  
Come to shul only if you feel healthy, and please dress in seasonally appropriate attire.  


Women's Tefillah Group
​​​​​​​Rosh Chodesh Nissan Service
Sunday, March 14th at 9am via Zoom
Sponsored by Margie Segal in honor of National Women's History Month
Cleaning for Passover?  Did you find black yarn stashed away? Do you want to help keep IDF soldiers warm while they are serving night guard duty up in the Golan? The Hats for Israeli Soldiers project was started by Channah Koppel in 2008 to provide IDF combat soldiers stationed in the cold northern mountains of Israel with homemade black woolen hats. The hats provide physical warmth as well as emotional support because the soldiers see that people care for them and what they are doing. When the hats arrive in Israel, they are labelled "Knitted For You With Love and Warmth" and they are distributed to soldiers via "A Package From Home." The Stanton Street Shul is joining this international effort.
Please knit your hats to the specifications (washable wool and specific pattern) set by the IDF.
If you have knit a hat, Ellen Silverstein will get it to Israel.
--brought to you by our Chesed/Social Action Committee
Rabbi Staller Encourages and Welcomes Your Feedback. The Rabbi and Board of Trustees are currently engaged in a mid-year reflection process, and we welcome the community's input. To share feedback, please reach out, confidentially, to Board members Jeff Katz (chair of the Rabbinic Advisory Committee), Margie Segal, or Jessica Spector. Rabbi Staller may be reached directly by email or by phone/text at (917) 282-7643.
{{shulcloud_footer_left}}
{{shulcloud_footer_right}}
Wed, December 1 2021 27 Kislev 5782