Weekly Newsletter
The Stanton Street Weekly Newsletter: Shabbat Mevarchim
| | |
| --- | --- |
| Author | |
| Date Added | |
| Automatically create summary | |
| Summary | |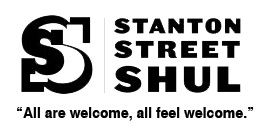 ​​​​​​​
Week of April 9th, 2021
27 Nissan 5781
​​​​​​​Parshat Shmini
​​​​​​​Shabbat Mevarchim
Erev Shabbat April 9th: 12th Day Omer (27 Nissan)
Tonight's Sefirah Count Is: היום שלשה עשר יום שהם שבוע אחד וששה ימים לעמר
7p NEW Kabbalat Shabbat IN SHUL Register Here
7:11p Candle Lighting

Shabbat Mevarchim, April 10th: 13th Day Omer (28 Nissan)
Tonight's Sefirah Count Is: היום ארבעה עשר יום שהם שני שבועות לעמר
9:30a Shabbat Services IN SHUL Register Here
8:12p Shabbat Ends. Gut Vuch and Shavua Tov!
8:30p Havdalah FROM YOUR HOME TO OURS via Zoom

Sunday, April 11th: 14th Day Omer (29 Nissan) 
Tonight's Sefirah Count Is: היום חמשה עשר יום שהם שני שבועות ויום אחד לעמר

Monday, April 12th: 15th Day Omer (30 Nisan)
Tonight's Sefirah Count Is: היום ששה עשר יום שהם שני שבועות ושני ימים לעמר

Tuesday, April 13th: Rosh Chodesh Iyyar 16th Day Omer (1 Iyyar)
Tonight's Sefirah Count Is: היום שבעה עשר יום שהם שני שבועות ושלשה ימים לעמר
8a Womens Tefillah Group Rosh Chodesh Services via ZOOM
7p - 8p Rabbi Leead Staller's Parshat HaShavuah Shmini Shiur via ZOOM

Wednesday, April 14th: 17th Day Omer (2 Iyyar)
Tonight's Sefirah Count Is: היום שמונה עשר יום שהם שני שבועות וארבעה ימים לעמר
7p - 8:15p Rabbi Leead Staller's Tefillah Class  via ZOOM

Thursday, April 15th: Yom Ha'Atzmaut 18th Day Omer (3 Iyyar)
Tonight's Sefirah Count Is: היום תשעה עשר יום שהם שני שבועות וחמשה ימים לעמר

See below for more details on events.
Thank you to this week's DONORS
We are grateful to have such a committed community

The following congregants donated to Ma'ot Chitim/Passover Charity:
Moshe Bloxenheim
The following congregants donated to Yizkor Fund:
Jeff Katz • Mona & Stephen Klaber
Jessica Spector & Raffi Abelson • Maxbetter Vizelberg 
The following congregants donated to General Fund:
Rhonda & Dave Cohn • Aliza & David Deutsch
Jessica Spector & Raffi Abelson • Leslie Sussman
Cheryl Hoffman • Doris Shasha Mazel Tov in honor of the birth of Eliza Anne Klaber, daughter of Jackie & Andrew Klaber
Jeff Katz for Chesed
Rebecca & David Friedman for WTG in memory of Martin Pulver
Arie Staller Out-of-Town Membership

From Your Home to Ours
Stanton's ZOOMing Havdallah
Let's celebrate the end of Shabbat and the beginning of the work week together!
ZOOM IN at 8:30pm on Saturday night.
Please invite your friends and neighbors, and volunteer to lead us next week!
​​​​​​
Because many of us are not able to attend shul in person, the Rabbi has agreed to share his shabbat morning drashah in advance. Here is part of it. To read the full drashah, click here and it will take you to a rich archive of all of Rabbi Staller's drashot.  
Drashah: 
After seven days of practice, where Moshe alone constructed the Mishkan, offered the sacrifices, did the Temple service, and folded up the Tabernacle, the big day finally came. The eighth day was supposed to be culmination of a week of preparation, as Moshe passed the baton on to Aharon and sons, as the Aharon and the priesthood formally kicked off the Temple– and thereby, God's presence in the physical world. Of course, the big moment is interrupted by major tragedy, as two of the priests, Aharon's sons Nadav and Avihu, die in a very public display of divine wrath at the peak of the temple service. A discouraging start, to say the least, two of the Kohanim are killed on their very first day on the job. But why was the eighth day of the Miluim, the ritual inauguration of the Tabernacle, the first day that the priests were commanded to work? Why was Moshe– a non-priest, who never again is allowed to offer sacrifices like a Kohein– tasked with performing all of the ritual service for the seven days before the Mishkan's grand opening? 

On a simple level, we can understand that Moshe was teaching Aharon and his children how to perform the service in the Mishkan. Rather than giving a lengthy lecture, Moshe performed a hands on display, demonstrating the many complicated procedures and steps that were required of the priests as part of their daily temple service. While that makes some amount of sense, as Moshe certainly is the perennial teacher of Halakha, it feels unsatisfactory as an answer. First of all, since when does Moshe shy away from lengthy orations about Mitzvot? It's not like by the other 600+ commandments, Moshe stops and demonstrates to the Jewish people how they're performed before communicating them? Or at least, if he does, the Torah doesn't tell us as much. 
...
continued

Click HERE to read the Rabbi's full Drasha
Misheberach: We pray that all who are sick may have a full recovery. To add a name to our communal misheberach prayer list, email us. 

Refuah Sh'leima to Leslie Levinson who is back in the hospital and best wishes to David Chu, Brina and Malka Chu.

From Jeff: On Chol haMoed I visited the Brooklyn Botanic Garden and made my way to the Cherry Esplanade in the center of the garden. I arrived at the moment when a five-and-a-half minute meditative composition for seven vibraphones is broadcast every hour on the hour. To my delight, the interpretative signage entitled the music as "loved." by composer and Stanton member, Michael Gordon and percussionist, David Cossin. Michael's work marks the one-year anniversary of New York City's pandemic shutdown.  The delightfully haunting piece was created for the Brooklyn Botanic Garden to honor those we have lost.  

"Like the ringing of fractured bells, loved marks the memory of those just recently lost. As we walk down the tree-lined path that just months ago exploded with blossoms, the music moves into the natural space in waves of resonating metals, silences, and an accelerated harmony."  - Michael Gordon

Educational Alliance/14th Street Y Can Help You Get Your COVID Vaccine
Sign up using this form or stop by 14Y lobby from M-F: 10am-noon or M-Th: 4-6pm.
The main vaccine hotline for NYC is 877-VAX-4NYC or 877-829-4692. Or you can visit https://vaccinefinder.nyc.gov/ or  https://www.turbovax.info/ or  https://vax4nyc.nyc.gov/patient/s/

Building Community Together
For many, remembering Yahrzeits, Birthdays, and Anniversaries are the most personal and meaningful dates on our calendar. They connect us to our deepest emotions. 
The Stanton Street Shul would like to help you remember these important dates. As we live busy lives, many of us would appreciate being reminded in advance of upcoming Yahrzeits. In the future, and upon request, we would like to hold more morning and evening services for members to say kaddish. 

We can automatically generate personalized greetings and reminders once you enter your dates onto your Shul account page. If you prefer, you may bring a list of your Yahrzeits, birthday and anniversary dates to Shul and we will gladly update your account for you. If you don't know the dates of your yahrzeits, please send name of loved one and time/date of death to Jill.

This is one more way of building a stronger, caring and loving community.

COVID Protocols for In-Person Shul
Many of us are committed to attend Shabbat services throughout this pandemic. We respect all who have decided to remain at home and look forward to the time when we will reunite under the Stanton roof. 
During these frigid Shabbatot, we turn up the heaters and, per, CDC ventilation maintain a healthy airflow by opening the front doors, the rear doors of the sanctuary, and the rear doors of the balcony. To retain as much heat as possible, we have decided not to open the side windows. We wear masks and maintain social distance.  
Come to shul only if you feel healthy, and please dress in seasonally appropriate attire.  
Cleaning for Passover?  Did you find black yarn stashed away? Do you want to help keep IDF soldiers warm while they are serving night guard duty up in the Golan? The Hats for Israeli Soldiers project was started by Channah Koppel in 2008 to provide IDF combat soldiers stationed in the cold northern mountains of Israel with homemade black woolen hats. The hats provide physical warmth as well as emotional support because the soldiers see that people care for them and what they are doing. When the hats arrive in Israel, they are labelled "Knitted For You With Love and Warmth" and they are distributed to soldiers via "A Package From Home." The Stanton Street Shul is joining this international effort.
Please knit your hats to the specifications (washable wool and specific pattern) set by the IDF.
If you have knit a hat, Ellen Silverstein will get it to Israel.
--brought to you by our Chesed/Social Action Committee
Rabbi Staller Encourages and Welcomes Your Feedback. The Rabbi and Board of Trustees are currently engaged in a mid-year reflection process, and we welcome the community's input. To share feedback, please reach out, confidentially, to Board members Jeff Katz (chair of the Rabbinic Advisory Committee), Margie Segal, or Jessica Spector. Rabbi Staller may be reached directly by email or by phone/text at (917) 282-7643.
{{shulcloud_footer_left}}
{{shulcloud_footer_right}}
Sun, October 24 2021 18 Cheshvan 5782