Weekly Newsletter
The Stanton Street Weekly Newsletter: Shabbat Tazria-Metzora
| | |
| --- | --- |
| Author | |
| Date Added | |
| Automatically create summary | |
| Summary | |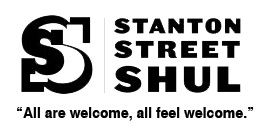 ​​​​​​​
Week of April 16th, 2021
4 Iyyar 5781
​​​​​​​Shabbat Tazria-Metzora
Erev Shabbat April 16th: 19th Day Omer (4 Iyyar)
Tonight's Sefirah Count Is: היום עשרים יום שהם שני שבועות וששה ימים לעמר
7p NEW Kabbalat Shabbat IN SHUL Register Here
7:18p Candle Lighting

Shabbat Tazria-Metzora, April 17th: 20th Day Omer (5 Iyyar)
Tonight's Sefirah Count Is: היום אחד ועשרים יום שהם שלשה שבועות לעמר
9:30a Shabbat Services IN SHUL Register Here
8:20p Shabbat Ends. Gut Vuch and Shavua Tov!
8:40p Havdalah FROM YOUR HOME TO OURS via Zoom

Sunday, April 18th: 21st Day Omer (6 Iyyar) 
Tonight's Sefirah Count Is: היום שנים ועשרים יום שהם שלשה שבועות ויום אחד לעמר

Monday, April 19th: 22nd Day Omer (7 Iyyar)
Tonight's Sefirah Count Is: היום שלשה ועשרים יום שהם שלשה שבועות ושני ימים לעמר

Tuesday, April 20th: 23rd Day Omer (8 Iyyar)
Tonight's Sefirah Count Is: היום ארבעה ועשרים יום שהם שלשה שבועות ושלשה ימים לעמר
7p - 8p Rabbi Leead Staller's Parshat HaShavuah Shiur via ZOOM

Wednesday, April 21st: 24th Day Omer (9 Iyyar)
Tonight's Sefirah Count Is: היום חמשה ועשרים יום שהם שלשה שבועות וארבעה ימים לעמר
7p - 8:15p Rabbi Leead Staller's Tefillah Class  via ZOOM

Thursday, April 22nd: 25th Day Omer (10 Iyyar)
Tonight's Sefirah Count Is: היום ששה ועשרים יום שהם שלשה שבועות וחמשה ימים לעמר
7p - 8:30p The Stanton Street Shul BookClub via ZOOM

See below for more details on events.
Thank you to this week's DONOR
We are grateful to have such a committed community

Grace Sudry Out-of-Town Membership
From Your Home to Ours
Stanton's ZOOMing Havdallah
Let's celebrate the end of Shabbat and the beginning of the work week together!
ZOOM IN at 8:40pm on Saturday night with Paul Silverstein.
Please invite your friends and neighbors, and volunteer to lead us next week!
​​​​​​
Because many of us are not able to attend shul in person, the Rabbi has agreed to share his shabbat morning drashah in advance. Here is part of it. To read the full drashah, click here and it will take you to a rich archive of all of Rabbi Staller's drashot.  
Drashah: 
If having twice the amount of Yom Tov wasn't enough to foment discontent, we in the diaspora now have twice the amount of Parshiyot too! But while Tazria and Meztora are broken into two separate Parshiyot, in reality, the vast majority of what they cover is the same topic: the laws of a Metzora, often translated as a leper, though the medical condition leprosy doesn't really seem to have much in common with the miraculous disease described in the Torah. Famously, the Gemara in Arkhin (15b) tells us that this disease isn't brought about by poor hygiene or a lack of social distancing, but rather, by speaking Lashon HaRa and badmouthing our neighbors.

Perhaps less well known, the Gemara goes on to list a number of different supernatural causes for Tzara'at, such as haughtiness, thievery, and murder. But putting aside the supernatural assumption, that God strikes people with diseases for their sins, why should these sins merit a medical punishment? Doesn't the Torah already lay out a set of rules and punishments for the court to follow? Additionally, how is Tzara'at, with its medical implications and various rituals of quarantine and purification, an appropriate punishment for this seemingly random laundry list of misdeeds?

To understand the significance of this confusing punishment, we need to examine the Torah's presentation of the Metzora. The Torah introduces us to the character of the Metzora with an everyman introduction (13:2):

אָדָ֗ם כִּי־יִֽהְיֶ֤ה בְעֽוֹר־בְּשָׂרוֹ֙ שְׂאֵ֤ת אֽוֹ־סַפַּ֨חַת֙ א֣וֹ בַהֶ֔רֶת וְהָיָ֥ה בְעֽוֹר־בְּשָׂר֖וֹ לְנֶ֣גַע צָרָ֑עַת

Adam, a man (or woman), who has a lesion on their flesh is a Metzora. Given this introduction, it is particularly striking how, mid-Passuk, the Torah dramatically shifts its focus. While the Adam with Tzara'at was the subject of the introductory Passuk, by the conclusion of the Passuk, he has been transformed into an object, as we are told VeHuva El Aharon HaKohein, he shall be brought to Aharon. It's not like Tzara'at strikes our Adam with an inability to walk? Why is he being brought, like an object, pulled by its owner? 
...
continued

Click HERE to read the Rabbi's full Drasha
IMPORTANT ANNOUNCEMENT FROM THE RITUAL COMMITTEE

The Ritual Committee has begun a community self-study to explore ways to enrich the davening experience at The Stanton Street Shul.  Paul Ruffer, the committee chair, will call each member household to discuss what would enhance members' davening experience and the committee will use that input to enrich davening at Stanton Street.

Through this survey inquiry we hope to identify folks who can lead Havdalah and other services and expand our pool of Baalei Tefillah. In June, the Ritual Committee will inaugurate a Davening Clinic with classes from Rabbi Staller on being a Shaliach Tzibur, what it means to lead communal prayer, and the details of that important communal responsibility. Following the Rabbi's classes, the Davening Clinic will host classes to strengthen the Baalei Tefillah skills of those who have offered to function in that important role.

After getting our Baalei Tefillah classes underway, we hope to create a Davening Buddy System where we will match folks with strong Hebrew reading & Davening skills with other folks who want to strengthen their Hebrew Reading and Davening skills.  Through such programming we hope to expand participation and engagement in communal prayer at Stanton Street.

If you get a phone call from a (240) 460-2717 number, know it's Paul Ruffer reaching out to you, so please pick up so that we can have your voice and input in this important community self study.

With everyone's participation we can create that vibrant Davening Clinic and Community that will further enrich our davening at The Stanton Street Shul and help us continue to grow and go from strength to strength.

Misheberach: We pray that all who are sick may have a full recovery. To add a name to our communal misheberach prayer list, email us. 

Refuah Sh'leima to Leslie Levinson who is getting stronger, and best wishes to David Chu, Brina and Malka Chu.

Happy Birthday to Sonya Friedman and Amy Sklar

From Jeff: On Chol haMoed I visited the Brooklyn Botanic Garden and made my way to the Cherry Esplanade in the center of the garden. I arrived at the moment when a five-and-a-half minute meditative composition for seven vibraphones is broadcast every hour on the hour. To my delight, the interpretative signage entitled the music as "loved." by composer and Stanton member, Michael Gordon and percussionist, David Cossin. Michael's work marks the one-year anniversary of New York City's pandemic shutdown.  The delightfully haunting piece was created for the Brooklyn Botanic Garden to honor those we have lost.  

"Like the ringing of fractured bells, loved marks the memory of those just recently lost. As we walk down the tree-lined path that just months ago exploded with blossoms, the music moves into the natural space in waves of resonating metals, silences, and an accelerated harmony."  - Michael Gordon

Educational Alliance/14th Street Y Can Help You Get Your COVID Vaccine
Sign up using this form or stop by 14Y lobby from M-F: 10am-noon or M-Th: 4-6pm.
The main vaccine hotline for NYC is 877-VAX-4NYC or 877-829-4692. Or you can visit https://vaccinefinder.nyc.gov/ or  https://www.turbovax.info/ or  https://vax4nyc.nyc.gov/patient/s/

Building Community Together
For many, remembering Yahrzeits, Birthdays, and Anniversaries are the most personal and meaningful dates on our calendar. They connect us to our deepest emotions. 
The Stanton Street Shul would like to help you remember these important dates. As we live busy lives, many of us would appreciate being reminded in advance of upcoming Yahrzeits. In the future, and upon request, we would like to hold more morning and evening services for members to say kaddish. 

We can automatically generate personalized greetings and reminders once you enter your dates onto your Shul account page. If you prefer, you may bring a list of your Yahrzeits, birthday and anniversary dates to Shul and we will gladly update your account for you. If you don't know the dates of your yahrzeits, please send name of loved one and time/date of death to Jill.

This is one more way of building a stronger, caring and loving community.

COVID Protocols for In-Person Shul
Many of us are committed to attend Shabbat services throughout this pandemic. We respect all who have decided to remain at home and look forward to the time when we will reunite under the Stanton roof. We wear masks and maintain social distance.  
Come to shul only if you feel healthy, and please dress in seasonally appropriate attire. 




Luria Academy of Brooklyn is excited to continue welcoming applicants for our Upper School in the 2021-2022 school year. Parents and rising 4th - 8th graders are invited to find out more about our progressive, child-centered learning program, our dynamic and vibrant Jewish education, and our rigorous preparation for high school. Please visit  www.luria-academy.org or contact our Admissions Office for more information. 
Cleaning for Passover?  Did you find black yarn stashed away? Do you want to help keep IDF soldiers warm while they are serving night guard duty up in the Golan? The Hats for Israeli Soldiers project was started by Channah Koppel in 2008 to provide IDF combat soldiers stationed in the cold northern mountains of Israel with homemade black woolen hats. The hats provide physical warmth as well as emotional support because the soldiers see that people care for them and what they are doing. When the hats arrive in Israel, they are labelled "Knitted For You With Love and Warmth" and they are distributed to soldiers via "A Package From Home." The Stanton Street Shul is joining this international effort.
Please knit your hats to the specifications (washable wool and specific pattern) set by the IDF.
If you have knit a hat, Ellen Silverstein will get it to Israel.
--brought to you by our Chesed/Social Action Committee
Rabbi Staller Encourages and Welcomes Your Feedback. The Rabbi and Board of Trustees are currently engaged in a mid-year reflection process, and we welcome the community's input. To share feedback, please reach out, confidentially, to Board members Jeff Katz (chair of the Rabbinic Advisory Committee), Margie Segal, or Jessica Spector. Rabbi Staller may be reached directly by email or by phone/text at (917) 282-7643.
{{shulcloud_footer_left}}
{{shulcloud_footer_right}}
Sun, October 24 2021 18 Cheshvan 5782